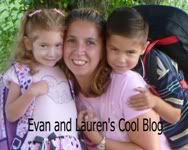 Christmas is coming up soon so head over to Evan & Lauren's Blog to win a Prima Princessa DVD.
Check out her review of "Prima Princessa Sleeping Beauty". Not only did her daughter and son dance along to the show, but even her dog got into the action. She writes, "At one point Fred our Shetland Sheepdog got in to it as there were dogs playing chase to illustrate chasse."
Check out their fun and helpful Holiday Gift Guide 2011 too and make sure to check out some of their other great giveaways.